Title: Brilliant Freelancer
Author: Leif Kendall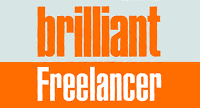 About the book: Brilliant Freelancer is broken into easily digestible chunks, which cover aspects such as: getting-started essentials, finding work, motivating yourself and managing your cash flow. Leif raises and answers questions surrounding each topic, includes advice from a range of successful freelancers and rounds up each chapter with a 'brilliant recap'. Packed with tips and practical exercises, Brilliant Freelancer is a valuable tool for self-training and a great source of motivation.
Read this if… You are already a freelancer or are considering setting out on your own and are open to picking up expert tips from a super successful freelancer. Although Leif is a Copywriter, his book is geared towards the freelance profession as whole, so any freelancers, from plumbers to web-designers, can benefit.
In my opinion: A practical guide as well as an entertaining read, Brilliant Freelancer provides new or wannabe freelancers with an honest account of the realities of freelance work, laying out a step-by-step approach for entering and managing a freelance career. For established freelancers, Leif's book is a superb source of motivation, a reminder of what works well and a kick-up-the-bum for any freelancers who are dragging their heels. One of Brighton's most successful Copywriters, who recently decamped to Dorset, Leif is a freelancer with authority and,with copies of Brilliant Freelancer starting at £9.09, his book is a far better value than attending a training seminar.